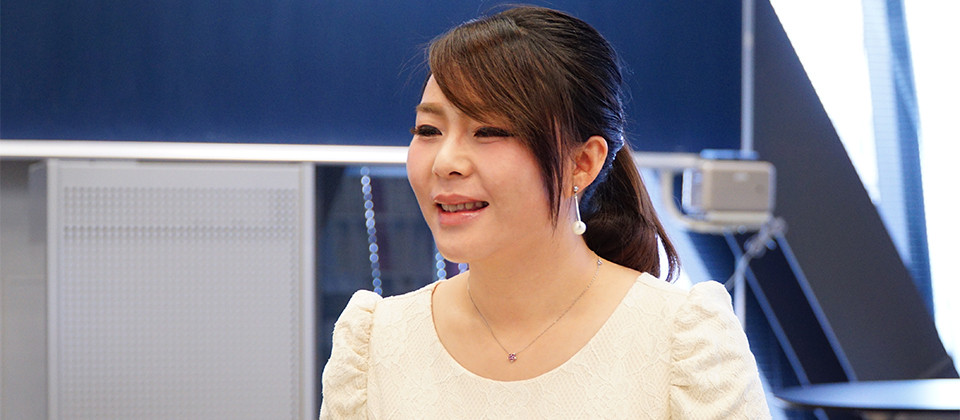 Tong Hangyan
from Inner Mongolia
Make-Up/Nail Art Dept.
Unofficially offered a job as a bridal makeup artist at a Japanese hair salon (Tsurumi)
Click here, if you can not watch this movie.(YouTube)
I WANTED GET A JOB ON WHAT I LOVE.
I JOINED MODE GAKUEN TO FULFILL MY DREAM I HAD FOR A DECADE!
How I Came to Japan
My interest in Japan was firsted influenced by a friend who ran a Japanese language school back home in Inner Mongolia. That friend of mine had lived in Japan for more than ten years and often spoke to me about how appealing Japan is, saying "Japan is such a safe and easy country to live in" and "Japanese people are all so polite!" I became fascinated with Japan, and after I graduated from a university, came to Japan and started attending a Japanese language school.
Why I Chose Mode Gakuen
The truth is, when I came to Japan I had no specific goal about what I wanted to study or what kind of job I wanted to do. I heard there was a school called Mode Gakuen from a Inner Mongolia friend who worked for a Japanese company. I had no idea what I could study there, but as I looked it up on the internet, and I began to remember my dream from the junior high school days. I used to love the idea of "making people cute and pretty" – as I had often done hair arrangements for my little sister. If I could get a job where I can do what I love, I would definitely work hard for it. If I had joined Mode Gakuen, it would surely make my dream of ten years come true. Feeling convinced, I decided to get enrolled.
UNOFFICIALLY OFFERED A JOB AS A BRIDAL MAKEUP ARTIST
I FEEL GRATEFUL TO THE TEACHER WHO FOUND MY APTITUDE AND
HELPED ME GROW.
About My Teacher
In my second year's spring, my teacher said to me, "You'll be good at bridal makeup." My teacher had recognized my aptitude from the way I took care of the tools, and the caring attitude for the models in my makeup certification classes. I always loved "bringing joy and happiness to people by making them beautiful", so, those words from my teacher really boosted my self-confidence and helped me set a specific goal: "I want to be a bridal makeup artist".
About Job Hunting
More than anything else, one of the best things about Mode Gakuen is the solid support system to help international students find employment. The teachers introduce students to potential employers that match the aptitude of each individual student and follow up with thorough interview practice. From the time you enroll, you are given a thorough education on the rules and etiquette required for working at a Japanese company. For example, Mode Gakuen taught me from scratch that in Japan, tardiness is absolutely not tolerated and that it is important to verbally respond and to nod when somebody is talking to you. Thanks to this kind of coaching every day, I was able to receive a job offer from the bridal makeup salon I most wanted to work at.
My Employers and Dreams for the Future
Tsurumi, which has given me an unofficial job offer, is a salon with a history of bridal makeup in Yokohama. The other day, I helped with hair and makeup at an actual wedding. I learned on the job how to supportthe bride and her family members. This made me appreciate on a greater level how wonderful it is to work as a bridal makeup artist. My future goal is to enhance my skills so that I can start contributing to society as soon as possible. I am going to doeverything I can for my parents, who was very happy and supportive for me when I decided to work in Japan.