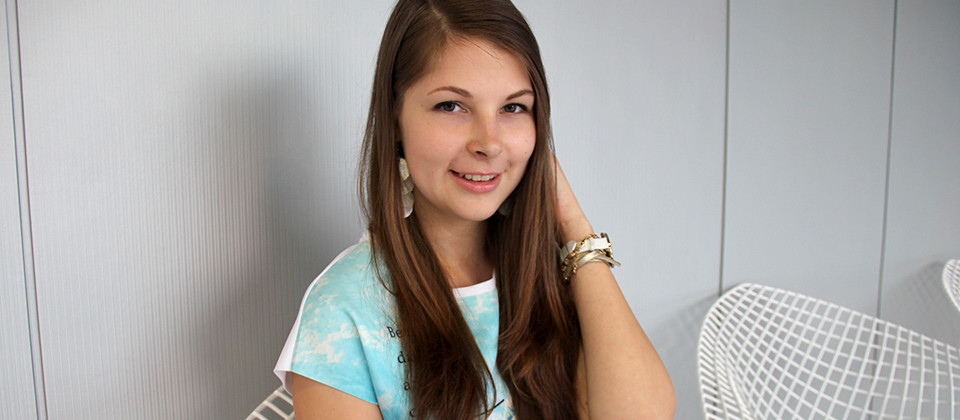 Grinevich Ekaterina
from RUSSIA

Interior Dept.
TRIAL ENROLLMENT AT MODE GAKUEN REMINDED ME OF MY CHILDHOOD DREAM.
How I Came to Japan
My father worked at a trading company and was deeply involved with Japan. He told me a lot about Japan when I was a child, so I naturally became interested in Japan. I wanted to study extensively about Japan, so I went to a Russian university and majored in Japan studies. I came to Japan after graduation, looking for a job while studying at a Japanese language school. At first I was planning to be a translator/ interpreter, but soon I realized that was not what I wanted to do.
I was lost in finding what I wanted to do.
Why I Chose Mode Gakuen
At that time, a friend of mine invited me to participate in Mode Gakuen's trial enrollment. I did not even know what you can study at Mode Gakuen. I visited with simple curiosity, "I want to look what's inside that awesome-looking building." As I walked around the building and saw the school's facilities, environment, and exhibited pieces of work by students at Interior Department, my almost-forgotten dream of "becoming an interior designer" from my childhood came back in my mind. I did not have knowledge about interior design, nor skills in drawing pictures or prototype designs. But driven by my inner voice saying "I want to do it", I decided to join Mode Gakuen.
SCHOOL LIFE AT MODE GAKUEN.
What Is Good about Studying at Mode Gakuen
You will find everyday lesson very interesting, and the more you learn, your interest in design will grow greater. I have been studying for 14 years since I entered the elementary school, but I have never enjoyed studying like I do now. Assignments are difficult, but they need to be so for me to improve myself.
I am working on them with a very positive attitude.
School Life
I was worried before joining Mode Gakuen if I could make any friend, but I immediately discovered that was not a concern at all.
My classmates are always very kind, and we go out together on holidays. We have one thing in common: "we all love design" so our conversation never stops. I feel fortunate I am studying in a very good environment.
At Mode Gakuen, the teachers are very kind too. They explain things to international students in simple Japanese over and over, to make sure we can fully understand.
Not only about school and studying, but they are very helpful in supporting our everyday life and other miscellaneous things too.
THOUGH I HAD NO EXPERIENCE IN THE FIELD,
I WON THE GOLD PRIZE AT SCHOOL'S CONTEST.
Dreams for the Future
I want to work as an interior designer in Japan. What I am most interested in is designing houses and shops, but I am beginning to get interested in car interior design too. Things you can do expand as you study here, and so does what you want to do in your future career.