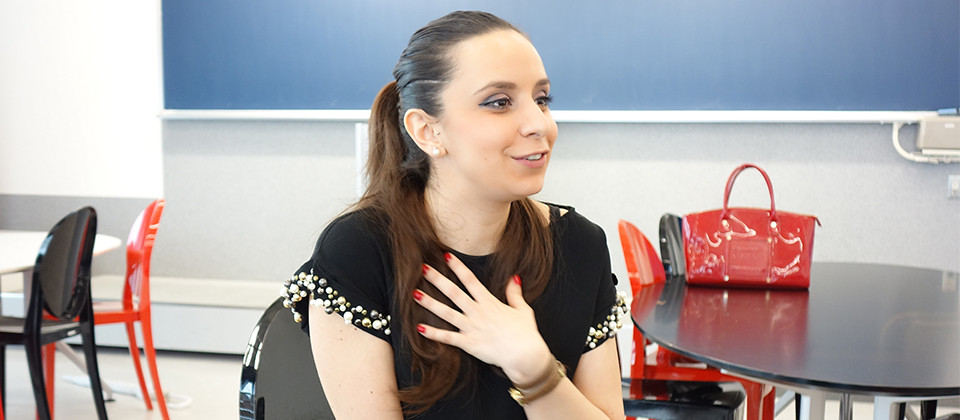 Alice Cauchi
from ITALY

Fashion Business Dept.
Unofficially offered a planning job for an apparel brand.
I WANTED TO GET A JOB IN JAPAN WHERE FASHION BUSINESS IS SO ADVANCED!
How I Came to Japan
I had a strong wish to work in fashion business field (planning, marketing,) and I wanted to study in a country where fashion business is advanced. Japan's fashion industry has a very advanced production management and distribution systems compared to other countries. I was already studying Japanese language and culture at university because I liked Japanese movies, so Japan became my first choice. This is how I came to study fashion business in Japan.
Why I Chose Mode Gakuen
My acquaintance once told me that Mode Gakuen was the most famous fashion school in Japan, so I checked out its web site. I found that the school had a lot of subjects that would surely help me in the future.
I visited the school myself, too. The buildings and facilities made me feel "I absolutely want to study here" even more. So I decided to join Mode Gakuen.
BUILD YOUR SKILLS THROUGH GROUP WORK WITH STUDENTS FROM DIFFERENT FIELDS.
School Life at Mode Gakuen
At first I felt slightly worried as I saw my classmates were at widely different ages.
But we got along in no time without any problem.
With my classmates, I enjoy exchanging information about studying and going out for lunch or dinner.
Also, it was great that I became friends with students from other departments besides Fashion Business Department, such as Fashion Design Department.
Contents of Lessons & Curriculums
In addition to regular classes, there are a lot of group work with classmates and students from other departments, which are very helpful. Recently I did a group work with students from Interior Department.
First, we the students from Fashion Business developed a shop concept, and then those from Interior Department worked on designing interior and exterior decoration. Though I thought I explained everything to the team members, there were times my concept was not thoroughly understood due to the differences in our standpoints and way of thinking.
Despite all that, it was a great pleasure when we completed the design after everything we had gone through together. Including communication skills to have my ideas understood clearly, I can feel that the skills necessary for project planning were building up within myself.
TEACHEARS NEGOTIATED WITH COMPANIES FOR ME, AND TAUGHT ME ABOUT JAPANESE MANNERS. I WAS ABLE TO RECEIVE AN UNOFFICIAL JOB OFFER AS A PLANNER AT AN APPAREL BRAND. IT WAS THE JOB OF MY DREAM!
Counseling for Employment from a Japanese Company
"When I get employed, I want to work on fashion planning as soon as I join a company. I am determined about that. But, is there any company as such?" This was the question I asked my career-counsel teacher, who gave me an assuring answer, "that's alright and leave it to me. "
My teachers helped me look for companies I wanted to work for. And when I found an interesting company, they helped set up an interview session for me, talking directly to that company's personnel department. They also taught me Japanese manners and rules in thoroughly, for which I am very grateful.
Finally, I was able to receive an unofficial job offer from an apparel brand as a planner.
Starting with the planning job, I would like to try various things and go on pursuing what I like, and what I want to do further.